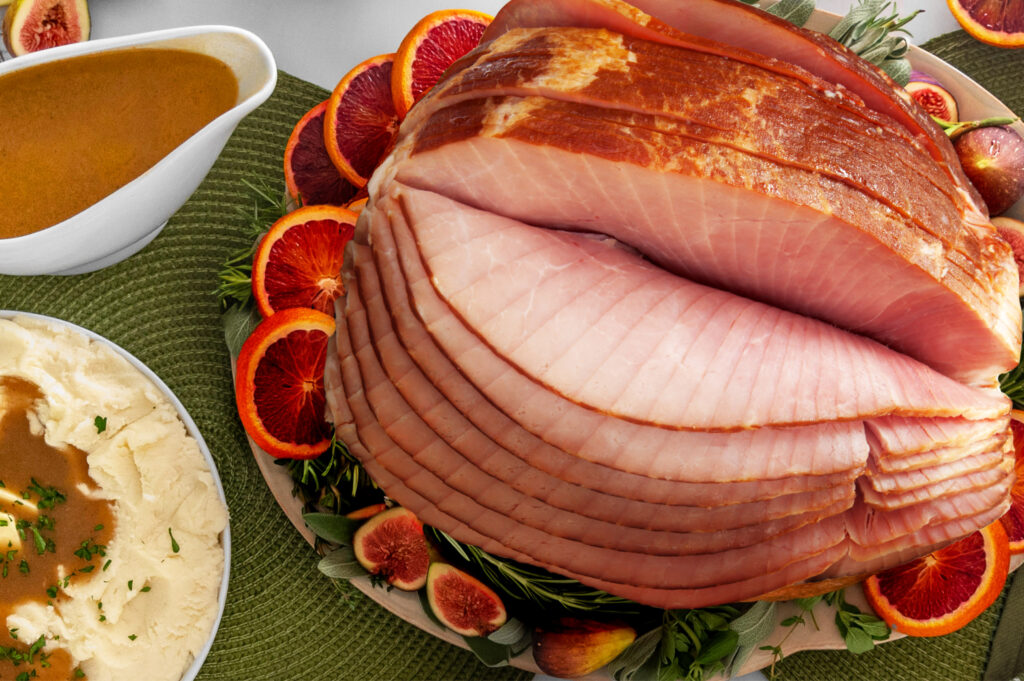 1, 8 – 10lb. Bone-in Ham (1⁄2 ham)
1 cup honey
1⁄4 cup whole grain mustard
1⁄4 cup packed dark brown sugar
4 tbsp unsalted butter (1⁄2 stick)
This Honey Mustard Glazed Ham is the perfect balance of sweet and savory for any holiday gathering.
Preheat oven to 350°F.
Remove any plastic packaging and or netting from the ham. Set the ham to rest at room temperature for 30 minutes.
Line the baking sheet with aluminum foil (it will make clean up a lot easier). Place the ham, cut side down, on the baking sheet and cover it with a piece of parchment paper. Tightly cover the ham and parchment paper with aluminum foil and bake it for 45 minutes.
Combine the remaining ingredients in a small saucepan over medium – low heat, stirring occasionally, until the butter melts and the brown sugar has completely dissolved, about 3 minutes. Set aside and let cook to lukewarm (the glaze should be the consistency of room temperature honey).
When the ham is ready, remove it from the oven and increase the oven temperature to 425°F. Discard the foil and parchment paper and, using a sharp knife, score a 1-inch-wide diamond pattern (don't cut more than a quarter inch deep) over the entire ham.
Brush the ham with about a quarter of the glaze (about 1⁄3 cup), return it to the oven, brush with another quarter of the glaze, and repeat every 15 minutes until all the glaze has been used and a dark golden-brown crust has formed, about 55 – 60 minutes total. Let the ham rest 20 – 39 minutes before slicing.

Bravium Anderson Valley Pinot Noir
This Pinot Noir is a delicious combination of floral aromas, ripe fruit flavors, and savory elements. With its brilliant ruby red color this wine offers a complex mélange of cherry cola, herbal tea, pennyroyal mint, rose petal, damp soil, and cinnamon spice. A perfect pairing to Honey Mustard Glazed Ham.