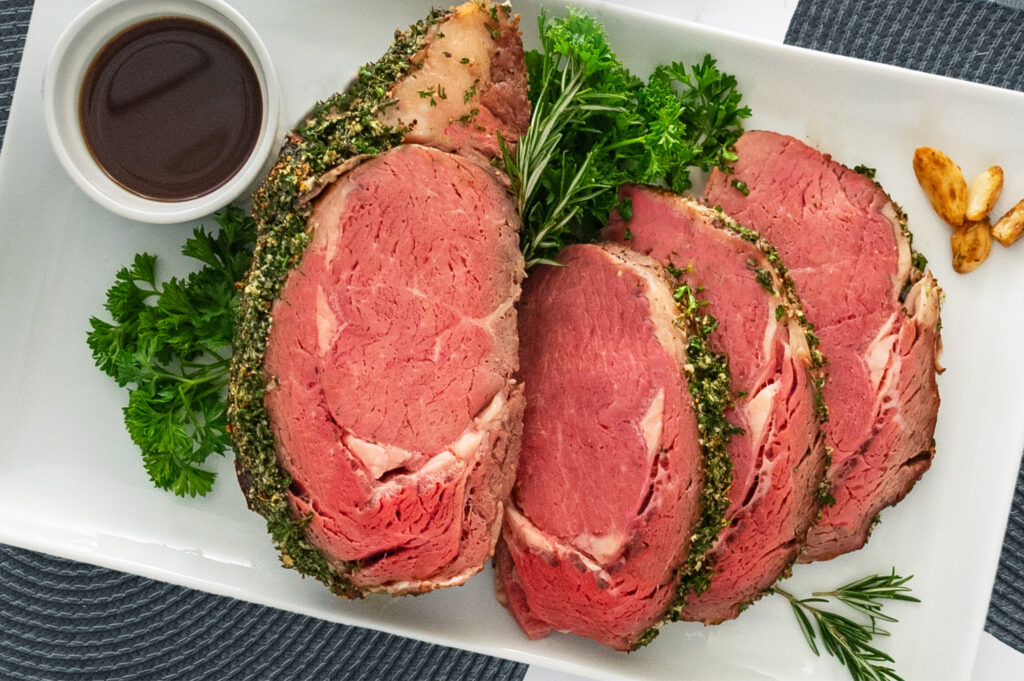 Prime Rib Roast
Salt and freshly ground black pepper
2 tbsp flour or cornstarch
1 cup of water, milk, stock, or beer
Fresh herbs
If you are looking for a a showstopper for your Holiday Feast look no further than a Prime Rib Roast!
Bring Rib Roast to room temperature by removing it from the refrigerator and allowing it to stand in a cool place, wrapped in its butcher paper wrapping, for 1 – 2 hours. Generously sprinkle with salt and pepper over the entire roast.

OPTION 1: The Classic Recipe
Preheat oven to 500°F. Cooked seasoned meat for 15 minutes before turning the oven down to 325°F for the remainder of the cooking time, about 15 minutes per pound. Allow to stand for 20 – 30 minutes before carving.

OPTION 2: The 500°F Method
Preheat oven to 500°F. Cooked seasoned meat for 5 minutes per pound and then turn the oven off and leave the roast for two hours in the unopened oven. No additional resting time needed.

*Note: The internal temperature of your roast should be 115 – 120°F for rare or 125 – 130°F for medium.

Gravy: Remove roast from the pan. Place pan on stove at medium – high heat. Pour off all but 2 tbsp of drippings into a separate container. In the pan stir in 2 tbsp of flour or cornstarch. Whisk until thickened and smooth. Continue cooking, stirring constantly. Add water, milk, stock or beer to removed drippings, enough to make one cup total before adding back slowly to the pan. Stir and season with salt, pepper, and favorite herbs.

Olema Sonoma County Cabernet Sauvignon
This Cabernet Sauvignon opens with mellow aromas of plum, black cherry and subtle notes of cedar. This full-bodied wine is balanced neatly with flavors of licorice, wild winter berries, and black olives on the palate. The tannins are silky and carry a rich fruit core throughout the long finish. An excellent pairing to Prime Rib Roast.