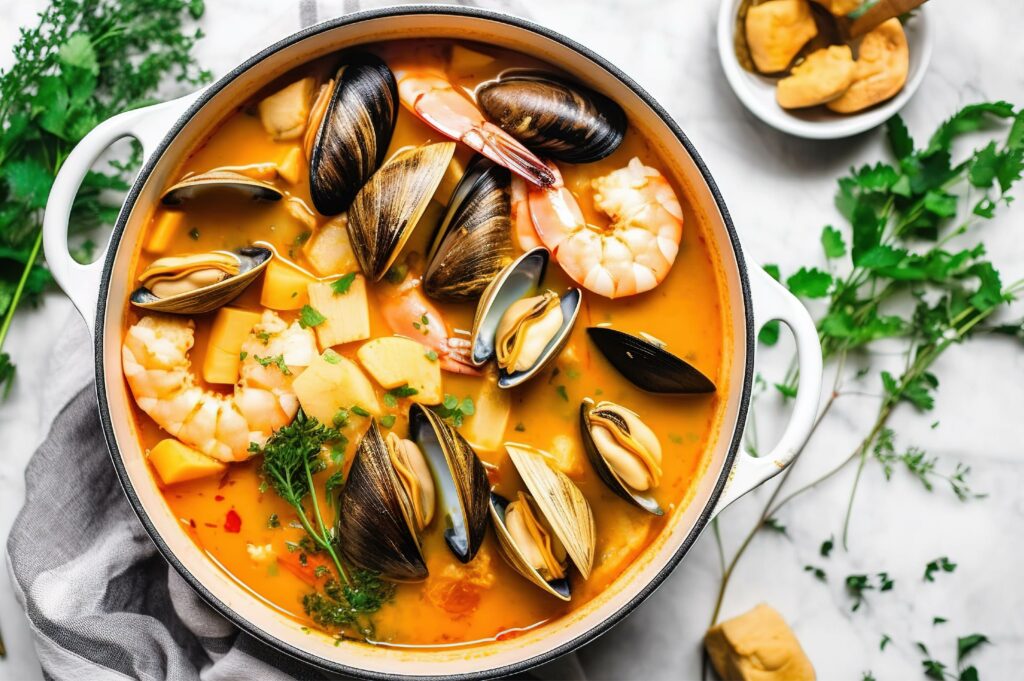 2 tablespoons olive oil
1 medium yellow onion, diced
1 medium green bell pepper, diced
1 medium tomato, seeded and diced
3 garlic cloves, minced
3 tablespoons fresh parsley, minced
1.5 qts. marinara sauce
3 tablespoons clam base
8 oz. dry white wine
4 leaves fresh basil, julienned
2 teaspoons garlic, minced
1 bay leaf
1⁄2 teaspoon dried oregano
1⁄4 teaspoon chili flakes
1 lb. raw prawns
1 lb. Aqua Gem clams
1 lb. mussels
1⁄2 lb. bay scallops
1⁄2 lb. red snapper
1 crab, cooked and cut into serving size pieces
Cioppino, a dish originating right here in San Francisco, is a seafood lovers delicious dream.
Heat oil in a large stock pot over medium heat. Add onion, bell pepper, tomato, garlic and parsley. Cook until onion is soft, about 10 minutes.
Add marinara sauce, clam base, white wine, basil, garlic, bay leaf, oregano, and chili flakes. Bring to a boil. Reduce heat, cover and simmer for 1⁄2 hour.
Peel and devein prawns and when base is ready, add prawn, clams, mussels, scallops, and red snapper and other items. Cook until clams open up. Add crab to warm through.

This wine leads with a very expressive nose that is layered with typical aromas of lemon/lime, elderflower, verbena, tropical fruits, peach, gooseberry and a distinctive minerality. All these notes are backed by a crisp acidity that provides the perfect pairing to Cioppino.