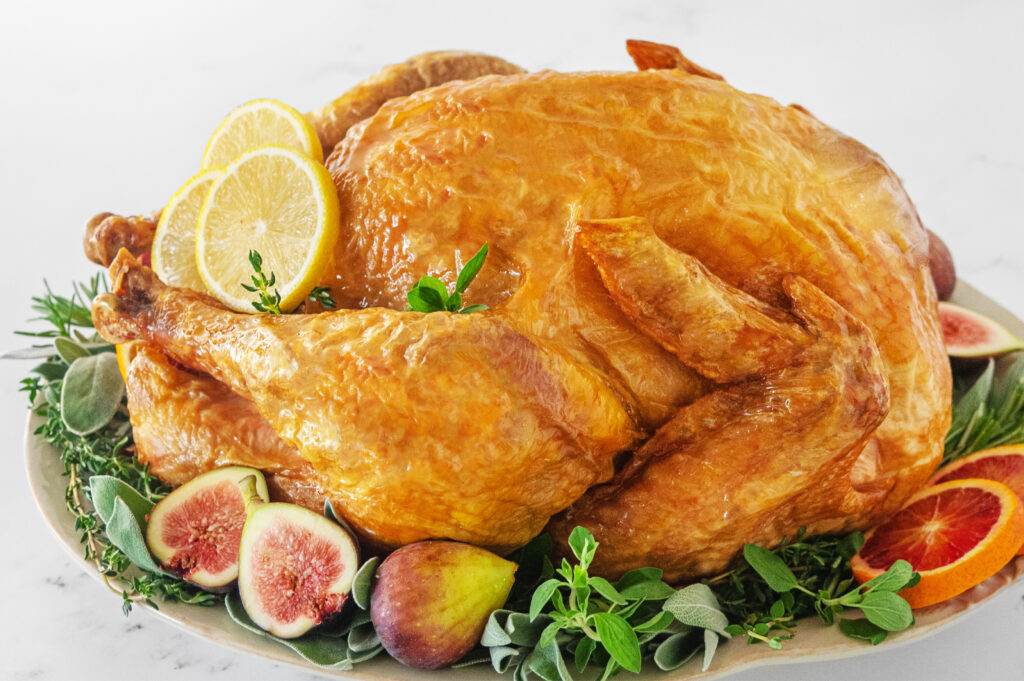 8 STEPS TO THE PERFECT TURKEY
Get ready to wow your guests this Holiday Season with a perfectly cooked turkey. With these simple instructions you'll have the whole table asking for seconds!
Preheat oven to 325°F.
Remove the turkey from bag. Remove neck from cavity body.
Rinse the turkey inside and out with cold water, then pat dry with a paper towel. Skewer neck to back with a poultry pin or a round toothpick for a neater final presentation.
Place turkey, breast side-up, on a rack in a shallow, open roasting pan. Brush turkey skin with Mollie's Olive Oil to prevent skin from drying out.
Place a loose tent of lightweight foil, shiny side down, over turkey to prevent over browning. Foil may be removed during the last half hour of cooking for final browning. Refer to chart below for roasting time guidelines.
Turkey is done when a meat thermometer reaches 165°F, the drum stick moves easily, and juices run clear. Stuffing in turkey needs to reach a minimum of 165°F at the center to be sufficiently cooked.
For easier carving, let the turkey stand for 15 – 20 minutes once removed from the oven.
APPROXIMATE ROASTING TIMES
| POUNDS: | UNSTUFFED: | STUFFED: |
| --- | --- | --- |
| 8 - 12 | 2.75 - 3 hours | 3 - 3.5 hours |
| 12 - 14 | 3 - 3.75 hours | 3.5 - 4 hours |
| 14 - 18 | 3.75 - 4.25 hours | 4 - 4.25 hours |
| 18 - 20 | 4.25 - 4.75 hours | 4.25 - 4.75 hours |
| 20 - 24 | 4.5 - 5 hours | 4.75 - 5.25 hours |