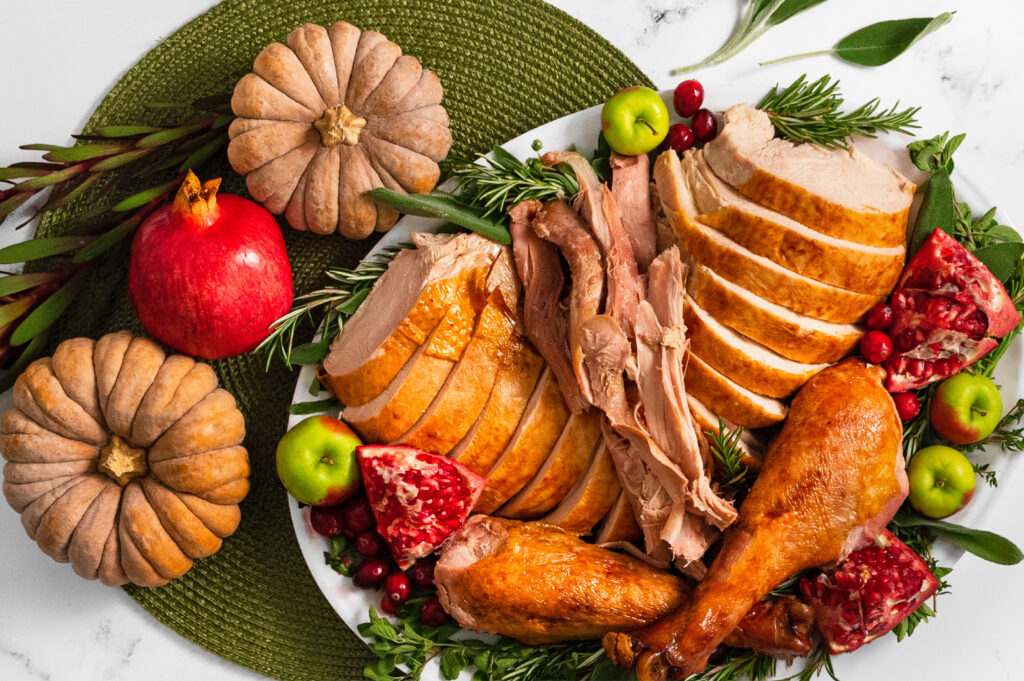 10 WAYS TO USE YOUR TURKEY
The best part about Thanksgiving, next to spending time with loved ones, is always the leftovers. Let's put that extra turkey to good use!
SALADS
Add roasted turkey to your favorite salad for a boost of protein. Try turkey, apples, dried cranberries, red onion, kalamata olives, shaved fennel and slivered almonds. Toss with your favorite dressing.

SANDWICHES
Invite more than just the turkey leftovers into this sandwich, don't be afraid to add in some cranberry sauce, stuffing and gravy and then some fresh spinach all between lightly toasted slices of your favorite sourdough bread.
WRAPS
Onto a tortilla spread cream cheese, add lettuce, cucumber, red onions and thinly sliced turkey and roll together and enjoy on its own or sliced into pinwheels.

SOUPS
Add 2 cups of roasted Turkey, a selection of chopped vegetables and 1 cup of uncooked rice or noodles to 2 quarts of your favorite bone broth.

PIZZA TOPPINGS
Top a par baked crust with 1⁄2 cup of marinara sauce, 1 cup of chopped roasted turkey, halved cherry tomatoes and 1 cup of mozzarella cheese; Bake for 10 minutes at 450°F. Top with fresh basil.

QUESADILLAS
Combine shredded roasted turkey with a sprinkle of cumin. Spoon onto one half of a large tortilla; sprinkle with cheese; fold the tortilla in half and cook on a nonstick skillet (coated with cooking spray) for 5 minutes, turning once halfway through.

PASTA
Add to your favorite pasta dish. Use shredded roasted turkey instead of ground beef in your favorite lasagna recipe.

POT PIES
Add chopped roasted turkey, sliced mushrooms and frozen mixed vegetables to condensed chicken or mushroom soup. Pour filling into foil tart pans. Top with puff pastry sheets and bake at 350°F for 20 to 25 minutes.

CASSEROLES
Combine 2 cups chopped roasted turkey with 2 cups cooked rice, a can of broth and a selection of chopped vegetables in a 2 quart casserole. Cover and bake at 325°F for 30-40 minutes, until vegetables are tender.

SKILLET MEALS
Add 1 1⁄2 cups of chopped roasted turkey to sautéed onion, mushrooms, broccoli and rice cooked in broth.